Garth South Mini Minis
The group for members from 2-years old ...
Mini Minis cover a whole range of activities. We love to have fun getting out on picnic rides, playing polocrosse or dressing up for Halloween mounted games.
We tend to run seasonal activities encouraging the children to take part in fun activities mounted and unmounted which really works towards the success of building those lasting Pony Club friendships talked of. Along with the fun rallies we also run a mix of Showjumping, Dressage and Cross-Country sessions with Tea clubs working towards Pony Club Achievement Badges so there really is something for everyone.
What level does my child need to be to join the group?
Lead rein tiny tots and young children start their riding journey in the Mini Mini group working up to the point where they can ride independently.
During their time with us members increase in confidence and create a partnership with their pony in walk trot and canter and when they are ready will jump small courses. We are always happy for children to stay in Mini Minis as long as they need to but we are as happy when they become established enough to move up to our Mini cohort.
Friendships and community play a big part of Garth South and we tend to find this plays a big part in our groupings and so members do often stay within their age group. At whatever level our emphasis is on supporting and encouraging each other, whether our members or our wonderful parents.
Mini Minis' Organiser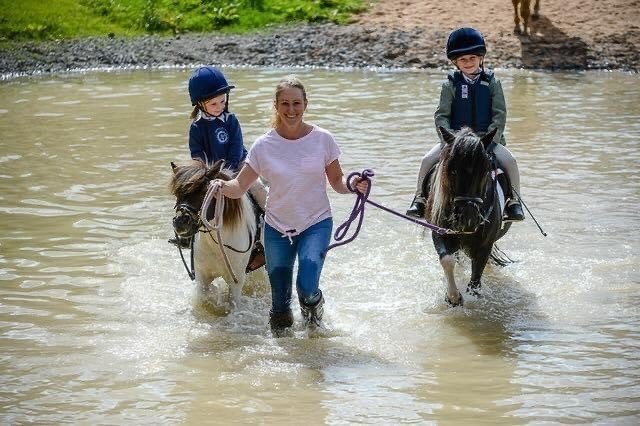 Wendy O'Carroll, Mummy to Isabelle, Holly and Walter.
We joined Isabelle to Garth South Pony Club when she was 3 and Holly and Walter have 'attended' since birth. I can often be seen dashing around with children, pushchair, ponies and a cup of tea in hand whilst trying to take photos of all our lovely members taking part in the rallies.
I organise the Mini Mini Rallies and Garth South Mini Camp. I enjoy seeing all our members on their Pony Club journeys. I love that when you bring a group of children together with the same common interest even if they are the shyest of children they bloom and make friends.
07989303998
What our Members Say!
Joining Garth South has been the best decision for us. Jack is a Mini Mini Member and joined when he was 3 years old. A year later and his riding and confidence has improved so much. Wendy does a brilliant job of looking after us all and there are so many fun rallies to choose from everyone is so welcoming and friendly. The kids have so much fun together and make amazing friendships with great instructors. Best Pony Club Ever!'
Becky Gibbons ,Jacks mummy.
'I love being a part of the Pony Club. I have made lots of friends and keep learning more and more. Our rallies are so much fun and Camp is the best!'
Imogen Hinze age 9
"Its fun, Its exciting, its cool! I love it!!
Harper Hinze age 5