Garth South Minis/PC80
The group for 7-12 year old members ...
We run a mix of All-Round, Flatwork, Dressage, and Showjumping rallies throughout the year, along with Cross-Country and Arena Eventing.
Our rallies are held on both surface and grass. We also run seasonal events such as Easter and Christmas hacks.
What level does my child need to be to join the group?
Our members in the Minis cohort will be able to confidently walk, trot and canter off the lead rein.
In the Minis cohort the children build upon their independent riding skills. We organise the Minis rallies so riders of similar ability are grouped together, which enables us to continue to develop the children's confidence across all disciplines whilst still keeping the focus on having fun.
The children continue the friendship groups that they established in the Mini Minis, although we also often welcome new members joining Garth South directly into the Minis cohort and new friendships are quickly developed.
Minis' Organiser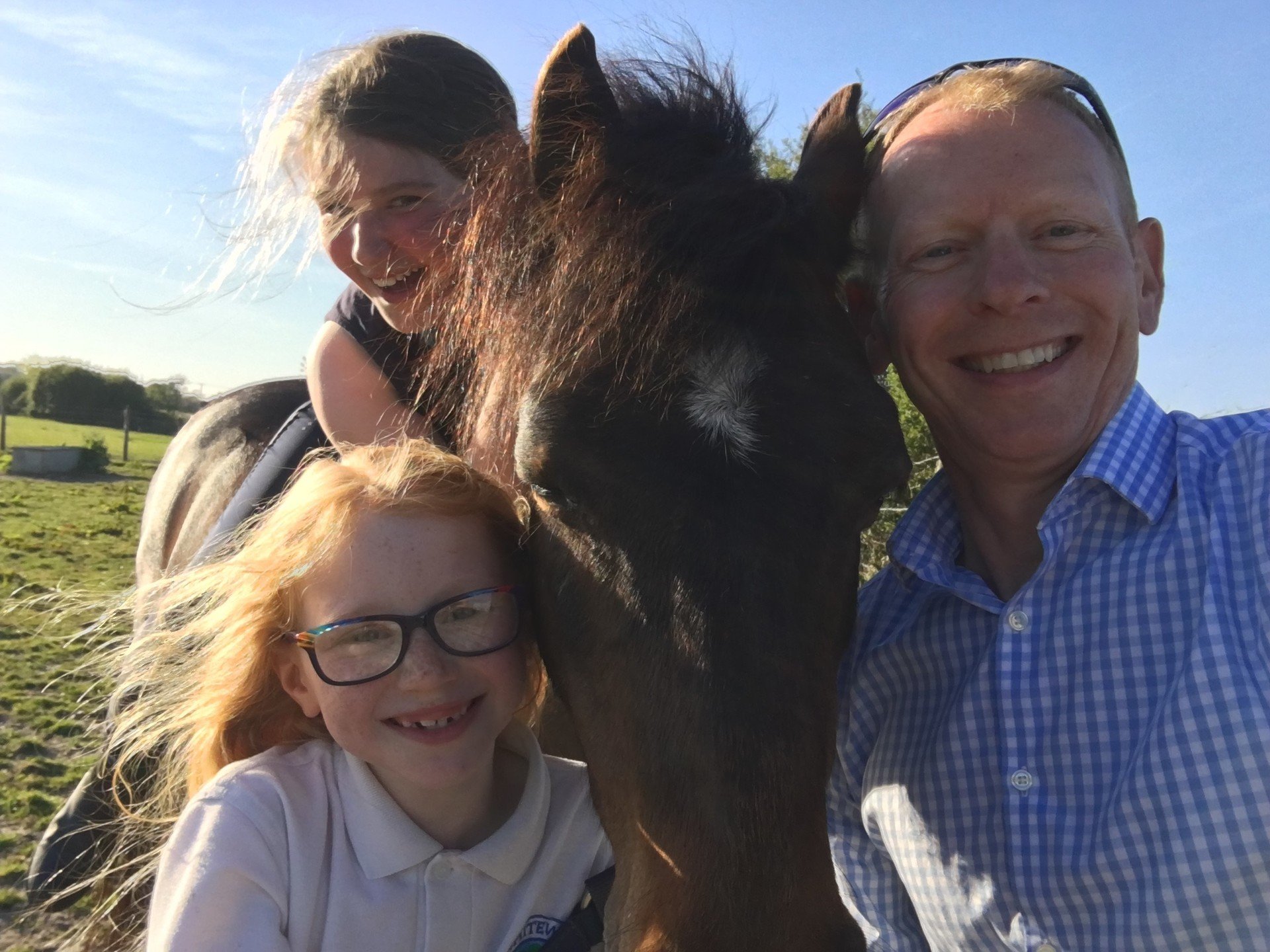 Colin Wilson, Daddy to Isabel and Tilly
07930 401564
What our Members Say!
Isabel aged 12
The Minis group is always really friendly and supportive. We always have loads of fun at our rallies.
We joined Garth South because we already knew many people there. We had heard from them that it was a really fun and kind club!
Since being at Garth South my confidence has really improved and my technique has as well. I think this is because of all the AMAZING instructors.
I would recommend this club to a potential member because we all have such a great time and we are all so supportive of our friends.
Tilly, aged 9
All of the members are very nice, and it's a lot of fun when we ride together at the rallies. I really enjoy Summer camp as I learn so much. The instructors are very encouraging.
I really enjoyed my first taster rally and everyone made me feel so welcome.
I love Show Jumping with my pony Lexi and I think we have improved a lot since joining Garth South.
You can make a lot of new friends and learn a lot in a really fun way.
Bethany, aged 10
The best thing about the club are my friends because we all love our ponies and riding
The club was recommended by friends, there are lots of children at my level and lots of rallies I was interested in.
I have made new friends and got better at riding because my instructors are brilliant!
At Garth South everyone's really kind and it's really fun!
Niamh, aged 12
One person that makes our group great is our instructor, Sharon. Sharon is simply the best instructor I have ever had, she is always so enthusiastic in everything she does and is so encouraging, Sharon makes every rally enjoyable for every member, without fail. As for the members in the mini group they are just great, they are so supportive - we all rally together to help and support each other, especially when something isn't going quite right. To sum up, the people of our group (members, instructors, and organisers) are really just such a lovely bunch.
I joined Garth South Pony Club because when I went for my taster rally everyone was so accommodating, welcoming and friendly. Even in that first rally the instructor taught me so much, I had one of the best lessons I had had so far.
When I joined, 3 years ago, I was really anxious about jumping and cantering, now I'm cantering around courses having a whale of a time. I began to trust my pony more and more, we are now soaring over big XC fences that I never thought possible. 2020 camp was the best 4 days of my life, the instructors and organisers made it great fun even in these difficult times. I have made some brilliant friendships which I hope will last a lifetime. Sharon helped me achieve all this, she made me begin to have faith in myself, she believed I could do it, so I started to believe I could. Since being in this pony club I have learnt and achieved so much and who knows what I will achieve in the years ahead.
I would recommend this club to someone because all the instructors are so encouraging, they put time and effort into getting to know you and your horse. They never push you to do something that you are not capable of but still help you to get the best out of yourself and your pony. The facilities we have access to are amazing, the organisers are brilliant, the rallies are so varied and always great fun. But it really is the people that make this club so special.