Garth South Pony Club Biosecurity Precautions
Garth South Pony Club Biosecurity Precautions
20 March 2021 (by Colin Wilson (ColinW))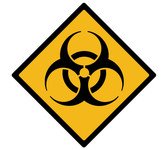 As you may have read in the Pony Club CEO Update email on Friday 19th March, it's vitally important that we all maintain a high standard of Biosecurity.
Passports and Equine Flu Vaccinations
Any horse or pony attending a Pony Club activity must be accompanied by their passport. The first and second Equine Flu vaccination injections must have been given and, if needed, correct subsequent booster injections.
EHV-1
As detailed in the CEO's update of 5th March, there is increased concern over the impact of Equine Herpes, EHV-1, in the UK. The recent outbreak on the continent has so far claimed the lives of 17 horses.
British Equestrian (the BEF, of which The Pony Club is a Member Body) is requesting that all Member Bodies use a process of self-certification whereby they declare their horses and ponies fit to attend the activity. This is initially for the period 29th March – 12th April, subject to the ongoing monitoring of the disease. Click HERE for further information.
We are asking that all Garth South Pony Club members who are attending our upcoming rallies to confirm with the relevant organiser 24 hours before it starts that their horse or pony shows no signs of:
- recent cough of unknown cause
- recent nasal discharge of unknown cause
- enlarged lymph notes
- fever (>38.5˚C)
- recent onset of neurological signs of unknown cause
- diarrhoea
In addition, the horse or pony:
- is not under current investigation for EHV infection.
- has not been in contact with and is not kept on the same premises as a horse known to have or be under investigation for EHV.
- has been resident in the UK for the last 28 days.
If the horse or pony shows any of these clinical signs on the day of the activity it must not travel nor attend the training or competition.
As per the above, our organisers will require that each member attending a rally to declare that their horses or ponies are fit before travelling to the activity. The organiser will communicate in advance the process to complete this.
Our priority is the welfare and safety of our horses and ponies. In addition, as we start the journey out of human lockdown, we do not want to see our equestrian sport locked down.